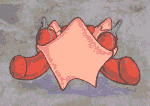 "Two Beautiful Stars"
35mm 1992
Also available on video and on The Laughing Feminist Compilation
Two Beautiful Stars is a three and a half minute animated square dance. Tradition is combined with the unorthodox as the dancers ds-si-do in a parody of relations between the sexes. I used my experience as a printmaker to create the atmospheric backgrounds. The figures were drawn on a frosted acetate which allowed me to paint the back of the cel in the traditional manner while using pencil crayons to add shading in the front. The music was a combination of two traditional tunes melded on the spot by the musicians; Rosie Szerepi on violin, Lisa Light with her bodhran and accordionist Glen Watts. The call was written and performed by myself.
Festivals
1995
Focus On Women Arts Festival, Victoria, B.C.
1994
18th Atlanta Film & Video Festival, Georgia.
Awarded Honourable Mention for Best Animation film.
1993
Women In the Director¹s Chair, Chicago, Illinois.
1992
In-Sight'92, Edmonton, Alberta.