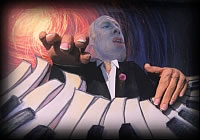 "More Sensitive"
35mm 2003
Available on DVD and VHS
More Sensitive takes us on a tipsy turvy trip into a bar where a performer valiantly strikes the first piano chord to introduce his song. How does he survive the almost complete indifference of his audience?
In two action packed minutes we move from the dizzying world of the quizzical drunk to the self obsessed perspective necessary to endure the oblivion of performing in a bar.
Despite the brevity full use is made of every frame to explore all kinds of animation techniques in any manner of combinations. Hand coloured photographs, cutouts, plasticine, drawing on paper and cel, optical effects, this film provided no end of opportunity for experimentation.
Kim Darwin is an accomplished jazz musician with a stinging sense of humour. His self parody, complete with tripping glissandos, gets funnier with every listen. In real life Kim plays wildly improvizational jazz accordion. His song, More Sensitive, draws on his experience of playing in hotel piano bars.
Festivals
2005
Melbourne International Animation Festival, Australia
Female Eye Film Festival, Toronto, ON. Awarded Best Animation
Moving Pictures, Canadian Films On Tour
Short Film Showcase tour organized by the Toronto International Film Festival.
RiverRun International Film Festival, Winston-Salem, NC, USA
Nashville Film Festival, Tennessee, USA
Satellite Short Film Festival, toured rural communities in British Columbia
Dawson City International Short Film Festival, Yukon
Ann Arbor Film Festival, Michigan, USA
2004
Cinanima – International Animated Film Festival, Espinho, Portugal
15th St. John's International Women's Film Festival, NFL, Canada
5th Brisbane International Animation Festival, Australia
Toronto International Film Festival, ON, Canada
Atlantic Film Festival, Halifax, NS, Canada
Ottawa International Animation Festival, ON, Canada
Best of the Rest Showcase
Anima Mundi (international animation festival), Brazil
Annecy International Animated Film Festival, France
International Panorama
Newport Beach Film Festival, CA, USA
Victoria Independent Film and Video Festival, BC, Canada
Best Animated Short
2003
30th Northwest Film and Video Festival, Portland, OR, USA